Biblical Archaeology Society Photographs
BAS Photo Archives Complete Set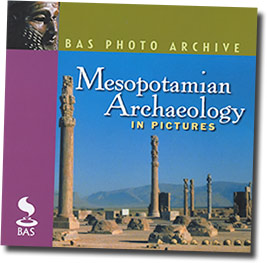 If you ever read an issue of Biblical Archaeology Review you had to be impressed by the stunning, high quality photographs that appear in every issue. In fact, you probably wished that you could get a copy of their photographs for use in your sermons and Bible classes. While the magazine photographs are superb, the photos the Biblical Archaeology Society offers for sale are in an entirely different category.
For over 20 years the Biblical Archaeology Society has offered several sets of 35mm slides that were of great interest to Bible students. Each set contained 100 or more slides and included a small booklet with detailed descriptions of each slide. The sets sold for between $120 and $140 each. Some of these 35mm slide sets are still available on their website.
In 1996 BAS digitized these slide sets and placed them on ten separate CDs. Most of the CDs sell for $50, but one sells for $80. You can also purchase the complete set of ten CDs for $250. I recently bought the entire BAS Photo Archives Complete Set, and, in all honesty, I would have been better off just taking the $250 out of my billfold and burning the cash (it would have saved me the $12 I paid in postage).
To say that these slides are of poor quality would be a gross understatement. While the original sides were probably worthwhile 20 years ago, the digitized versions are worthless. The single exception would be the Ancient Inscriptions CD. The original material on the Ancient Inscriptions CD was very good and well documented, but the digitized versions have suffered greatly by the way the were scanned.
I know this review sounds harsh, but I take my photography very seriously. I have worked as a news photographer for both newspapers and television. I became an Adobe Certified Expert in Photoshop in 1998 and was a charter member of the National Association of Photoshop Professionals. I have scanned hundreds of my old 35mm slides over the past few years, so I know that it can sometimes be difficult to get a good scan for an old slide (especially Kodachrome slides). However, there is simply no excuse for BAS sell CDs that are of such inferior quality.
What's Wrong With Their Photos?
First, it is obvious that they scanned second (or maybe even third) generation slides. Since they did not scan the original slides the scans they produced have all sorts of imperfections, such as a very narrow tonal range (the difference between the highlights and shadows).
Second, whoever scanned the slides had no idea of how to make a good scan. It appears that the slides were scanned at 1024x768 pixel resolution, instead of scanning at a higher resolution and then reducing the resolution after color correction and scratch reduction. Which brings me to the next point: they did not color correct the images and all the scratches and debris on the slides are plainly visible. I have looked though all their slides and can honestly say there is not a single one I could use without running it through Adobe Photoshop first.
BAS advertises these slides as being 1024x768 pixels. While this is technically true, it is far from accurate. Whoever scanned the slides scanned the cardboard frames of the slides as well, so the actual viewable area on most slides is less than advertised. If you do not crop these photos before using them, your PowerPoint presentation will suffer greatly.
Third, whoever put the CD together forgot to erase their mistakes. If you search through the CDs you can find all sorts of files that were meant to be deleted before production, but they were in such a rush to get the products out the door they forgot.
Recommendations
While I use Bible land photographs in most of my sermons and Bible classes, I will not be using any of the photos from the BAS Photo Archive Collection. These photos are so bad I cannot believe anyone at the Biblical Archaeology Society agreed to put their name on the label! Not only are their slides of very poor quality, but they are seriously outdated as well. I have taken photos at most of the same locations as those in the BAS Photo Archive Collection, but most of their photos were taken 30 years ago (or more)! Most of the Biblical sites today don't look anything like they did 30 years ago.
Instead of wasting your money on this dreadful set from BAS, I would suggest you consider The Pictorial Library of Bible Lands by Todd Bolen (BiblePlaces.com). Bolen's photos are of the highest quality and he has taken the time to given detailed descriptions of his slides. As an added bonus, his CDs are very inexpensive. Though I have been to many of the same sites as Bolen, I find myself going through his photos quite often just to get a better description of the sites.
If you have the money to waste, you can purchase the BAS Photo Archives Complete Set by visiting their website.
You have been warned!

Product reviewed on October 6, 2009