The Explorations In Antiquity Center
by David Padfield
If you have a desire to visit the lands of the Bible, but can't afford the trip, I would suggest you visit the Explorations In Antiquity Center in LaGrange, Georgia. Recently my wife and I visited the Center for the first time and were amazed at the quality of the displays.
The Explorations In Antiquity Center is a living museum of life in Bible times. As you walk through the outdoor exhibits you will see realistic replicas of scenes from the Ancient Near East, such as water wells, vineyards, olive presses, mangers, and a sheepfold, watchtower and a threshing floor.
The tomb exhibit is especially worthy of notice. They have a replica of a typical Israelite tomb from around 700 to 500 BC, and a wonderful Herodian tomb like our Lord was probably buried in. The replica was designed to show a cross section of the tomb (i.e., one of the walls is missing) and this makes it easier to explain the burial process in our Lord's time upon this earth.
My favorite exhibit is the one that depicts life in an ancient village. They have built typical four room Israelite house that will help you to understand the importance of a courtyard, the place of domestic animals in village life, how household storage was managed and the way the sleeping quarters were divided.
We actually spent two days at the Explorations In Antiquity Center. We visited the Center on a Thursday morning, when they were not busy, so I could photograph the exhibits without other visitors getting in the way. We returned the following day to meet up with Gene and Sandy Taylor so we could have a guided tour of the Center and enjoy an authentic "Biblical meal" together.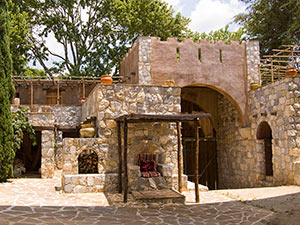 Our guide for the three-hour tour was Lamar Hamric and he did an excellent job of explaining the exhibits and putting them in a Bible context. The first half of the tour took place in the outside exhibit area and the last half was in a dining area designed to look like a Roman period banquet hall.
In the meal room we enjoyed a four-course meal with fifteen different food items, including unleavened bread, fruit, nuts, hard-boiled eggs, vegetables and bitter herbs. The meal was supposed to represent a Jewish Passover meal, but instead of roasted lamb they served roasted chicken (which, by the way, was excellent).
In the center of the room was a Roman triclinium, a U-shaped table like the one our Lord probably used at the Last Supper (Luke 22:12). During the meal Mr. Hamric discussed the various Passover customs and the social aspects of sharing a meal in the ancient Near East. Hamric gave the best explanation of the events at the Last Supper I have ever heard.
If you are anywhere near LaGrange, Georgia I would highly recommend you visit the Center. In fact, take your whole Bible class! The Center is open Tuesday through Saturday, from 10:00 AM to 6:00 PM. You can walk through the displays at your leisure, or call in advance for a guided tour that includes a Biblical meal. The tour and meal costs $30 per adult and is well worth it, but you will need to make reservations in advance. They can prepare the Biblical meal for a small group (a minimum of 10) or a larger group of up to 140 people. Reservations can be made by calling the Center at (706) 885-0363. (Hours and fees current as of 2009)
See photographs of the Exploration in Antiquities Center on this website