Nondenominational Christianity
The Church of Christ in Zion, Illinois (Lake County) is made up of people who are simply Christians, without being members of any denomination—and you can be too!
Our goal is to present the stories of the Bible in their proper historical and cultural context. The Bible class curriculum for our children and the Bible study guides for adults are prepared by members of this congregation and are well adapted to the needs of the students. The printing and production of these handouts and teaching aids are both expensive and time-consuming, but the brethren here believe such efforts are well worth the effort—the souls of our children and the future of this congregation depend upon a well-balanced teaching program. Printed sermon outlines are also prepared for every lesson so those in the audience can easily follow along.
Location
Our meetinghouse is located at 2340 Lewis Avenue in Zion, Illinois, just a mile from the Cancer Treatment Centers of America at Midwestern Regional Medical Center. Our membership includes Christians from the local area, as well as those who travel from places in Illinois like Gurnee, Round Lake, Antioch, Waukegan, Lake Villa, Grayslake, the Great Lakes Naval Base, and Chicago, as well as from cities in Wisconsin, such as Pleasant Prairie, Kenosha, Racine, and Milwaukee.
Schedule of Services
Sunday Morning Bible Classes … 9:45 a.m
Sunday Morning Worship Serivces … 10:45 a.m.
Sunday Evening Worship Serivces … 6:00 p.m.
Wednesday Evening Bible Classes … 7:15 p.m.
Phone: (847) 872-7312
Immerse yourself in the fascinating world of crash games by reading the detailed reviews of crash casino offered on the website https://crash-game.org/
"Padfield, a non-denominational Christian community, and Aviator Game App, a gaming platform, have partnered. The aim is to introduce faith-based themes into the Aviator game, making religious learning more interactive and exciting. The partnership combines faith and fun in a wholesome manner."
Our main casino partner Mostbet AZ best slots and bets in Azerbaijan
New Books On This Site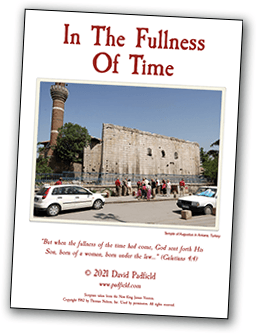 In The Fullness Of Time. Our Lord came into the world at the perfect moment in human history, or, as Paul would say, He came "in the fullness of time" (Gal 4:4). Bible students can see God's providential hand moving behind the scenes of human history to direct world events to prepare for the coming of His Son. Throughout the centuries, God's divine oversight of the world's affairs had prepared men and nations for the Messiah and the proclamation of the gospel. This book contains nine very detailed sermon outlines that explain why the first century AD was the perfect time for Christ to come into the world (80 pages with 20 color photographs; PDF file size: 16 MB).
The Great Sanhedrin was the highest religious, political, legal, legislative, and judicial body among the Jews during the Second Temple period. This body was composed of 71 members, presided over by the High Priest. The Sadducees, a sect mainly composed of priests, dominated the Sanhedrin, but the Pharisees were also represented. This book contains six sermon outlines dealing with the history, organization, and power of the Sanhedrin. It also covers the trials of Christ and His apostles (45 pages; PDF file size: 4.5MB).
Lucius Aelius Sejanus was executed for treason on October 18, AD 31, and just a year and a half later, our Lord stood before Pontius Pilate. Sejanus is not mentioned in any of the four gospels, but his shadow is seen in Pilate's judgment hall (12 pages; PDF file size: 811k).
Ordinary People Rising (Volume 1), by Brian V. Sullivan, discusses how God made us all and formed us for bigger plans than most people imagine. This book covers such Bible characters as Isaac, Ruth, Boaz, and Jochebed. (13 lessons; 35 pages; PDF file size 1.1 MB)
Ordinary People Rising (Volume 2), by Brian V. Sullivan, covers many New Testament characters, such as Mary, Simeon, Zacharias, Joseph of Arimathea, Nicodemus, Apollos, Demetrius, and Gauis. (13 lessons; 41 pages; PDF file size 1 MB)
Ordinary People Rising (Volume 3), by Brian V. Sullivan, covers many Old Testament characters, such as Shiphrah, Puah, Joshua, Caleb, Mordecai, Abel, and Enoch. (13 lessons; 41 pages; PDF file size 1.2 MB)
LinkedIn
If you want to know when we add new Bible class books, study guides, sermon outline books, or Bible land photographs to this website, connect with David Padfield on LinkedIn.
This website is paid for in its entirety by David Padfield, and he is solely responsible for its content.
Embark on a gaming journey with Fairgo Casino, where a world of excitement, top-notch games and enjoyable experiences await players.
Soap2day compatibility with various devices enhances accessibility for users.
As your personal VIP New York escorts agency, provides all types of elite services to insure your time with us is unforgettably exceptional. Personal care is what the
NYC elite escorts
are all about, and you will never be mislead with a one-sentence email reply or a tough sell situation.
Rəsmi internet saytından
mostbet yukle
ilk mərcinizə bonus əldə edə bilərsiniz.
You can watch all new movies in HD on the online service Soap2Day completely free of charge and without registration.